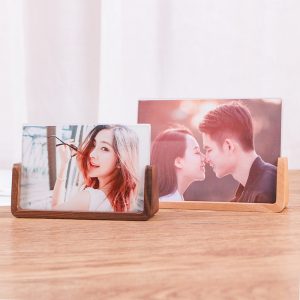 Product Details:
Product Name:
Promotional poster photo frame
Material:
Solid wood
Size:
5 inch, 6 inch, 7 inch, 8 inch, 10 inch, 11 inch (cm)
Shape:
Alien
Color:
Multicolor
Style:
Simple
Process:
manual
Package:
Kraft paper box
Feature:
Log quality, natural life.
Solid wood set up, style new life. Pursue the original atmosphere of life, the quality of logs, and natural life. Multiple choices to meet your needs. A large amount of customizable logo. The texture is beautiful, the eucalyptus wood is solid, the texture is fine and uniform, the corrosion resistance is strong, and the water resistance is strong. The heart is born by nature, and the heart is beautiful. The quiet wood color replaces our initial memory of the forest, and the hand-grinding feel is smooth and comfortable. The calmness of the wood makes people feel a warm sense of belonging. Natural logs, hand-refined. Log life, full of memories of the time and year.