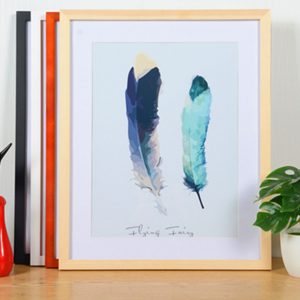 Generally it is solid wood, there is also a kind of foamed particles, and then pvc, the best of solid wood. Jining Boxuan craft professional decoration, professional photo frame production and processing.
First, the solid wood frame: also known as wood photo frame, wooden photo frame, that is, the photo frame made of wood as raw material. Commonly used are fir, pine, eucalyptus, paulownia, oak and so on. The most commonly used are fir and pine. The material is determined according to the grade of the photo frame.
Second, the plastic frame: made of engineering plastics, and has good flame retardancy. Plastic photo frames are lightweight and flexible, and can be made into a wide variety of shapes.
Third, crystal photo frame: There are many kinds of crystal photo frames. At present, there are many kinds of crystal photo frames, such as white carving, black carving and semi-crystal, which are made of high density board + transparent crystal resin. The process is more complicated, but the storage time is long and it is not easy to be broken. The studio is generally dominated by Korean crystal and meteorite crystals, of which Korean crystal is the mainstream.
Glass photo frame: The glass photo frame is made of a kind of tempered glass material. Compared with ordinary glass, it is not fragile, but it is relatively thin. It is generally used as a crystal wall. It also has a certain beauty on the wall. There are straight edges and wavy edges.
V. PS environmental protection materials: PS This material is in addition to the higher aesthetics, other properties should also be due to other materials currently used, such as anti-corrosion, moisture resistance, insect resistance, wear resistance and so on.
Sixth, the oil painting frame: the oil frame is the most classic, as long as the production is fine, the preservation time is very long. There are also other photo frames, such as leather carvings or reliefs. The leather carving is a layer of leather wrapped around an ordinary solid wood or plastic photo frame. The relief is completely made of plastic. According to the content of the photo, some materials are artificially applied on the surface to achieve a relief. When choosing a photo frame, be sure to consider the decoration style of your home. When choosing a photo, consider the decoration style of the home and the style of the photo frame!