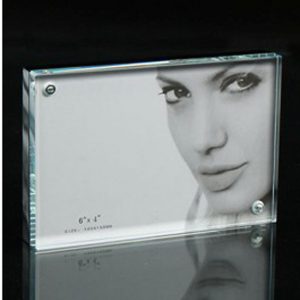 Product Details:
Product Name:
Acrylic magnetic phase frame plexiglass picture frames
Material:
acrylic
Size:
Various
Shape:
Rectangular
Color:
Multicolor
Style:
Modern
Process:
other
Package:
Carton
Feature:
Creative
Generally made of acrylic material, the imported acrylic material is crystal clear, non-toxic and odorless. Thickened and widened, thick and strong. More elegant and stylish, glass crystal texture. Imported acrylic material, crystal clear, non-toxic and odorless, pure and quiet, multi-functional display, horizontal and vertical display, for placing certificates, authorization cards, wedding photos, photo photos, etc.!
Acrylic advantages: 1. Excellent transparency: colorless transparent plexiglass sheet, light transmittance of 92% or more; 2. Excellent weather resistance is very adaptable to the natural environment, even if it is exposed to sunlight for a long time, wind and rain It will not change its performance, has good anti-aging performance, and can be used safely outdoors; 3. Good processing performance is suitable for both machining and thermoforming; 4. Excellent overall performance. Acrylic sheets are available in a wide variety of colors, with excellent overall performance, providing designers with a wide range of options. Acrylic sheets can be dyed and painted on the surface, screen printing or vacuum coating. 5. Non-toxic even with People's long-term contact is also harmless, and the gas generated during combustion does not produce toxic gases.